For other uses, see Denma (Disambiguation).
Denma (덴마, Denma) is the protagonist of Denma, 12 years old. He's one of Apple's leaders.
His real identity is Dike.
Biography
Edit
Just 6 months earlier, at the end of war with Big Four who are El's soldiers, Dike went to frequent bars after hearing that Jet was going to meet Aaron with his colleagues. Dike was suffering from gambling debts. He has a contract with someone, because she looks like Guyrin. And he was forced to get a job Silverquick, which is intergalatic courier service. When he woke up, his conscience was transferred to a 12-year-old kid's body suffering from quadriplegia, via a Neuro-Scanning socket.
His Eve is Cell. Also he has a Quai.
He comes to the planet Pamana on the request of Jinu on the planet Terra.
In Captain Hardok, he delivers to Hardok on the planet Carlburn.
The Carlburn Quanx Military is trying to catches him. Master Sergent Hador uses the same skills as him.
In Eve Rachel, Jet wins the bet with him. And he and Jet teaches Arcel, Ballack, other trainee about Adam.
He hates Yahwah. So he belongs to Apple. In Blackout, he listens to the Crying Daddy's closest friends with Jet. And then Jet gives two Reds to him.
In Yael Road, he has Adam Punching bag he received by Cell. And he delivers to Yael on the planet Negev. When he lost consciousness while escaping from a collapsed building, he dreams that Aaron speaks to himself, "You will never get out of there ever!"
He gives Edrei a couple of parcels, including 2 Reds, to help the delivery. However, Edrei gives 2 Reds to him again. Edrei tells he that the Crying Daddy's closest friends are dead.
In Mandragora, he has a videoconference with Jet. And he delivers to Sister Naomi on the planet Even.
Edrei is his supervisor of D-3 in Silverquick. So he revealed For Supervisor Edrei.
In Savoy Gaal, he hates Pentagon. Because they kidnapped and sold off Guyrin to El after they failed to capture him.
In (5) and Pigear (8), Edel and Arcel arrives at the Carlburn where he is.
He asks Yahwah to send Jet and a defender. But in (5) and Pigear (8), Edel and Arcel arrives at the Carlburn where he is. Arcel reveals to him that he's Ephraimite Quanx. Then he calls Jet when he's running.
In Pigear (9), he says to Jet that he found a friend who can hang out with him. Jet keeps running and hangs up. In the spaceship, Jet sees the sign language in the recording video that he spoke with Denma and notices that Denma has found Ephraimite Quanx.
Then he rescues Edrei, who was kidnapped by the Savoys with Edel and Arcel. And he catches Gaal among the Pentagon. When he was drinking all together, he saw Edel's mistake, Gaal's booster guns breaking Adam. Then he gets permission to get Yahwah to catching the Pentagons. After that, he threatens Gaal with the life of Gaal's sister Hannah. And he asks Gaal to bring the other Pentagons. He loses his energy when Mirai Datsu is told that he's about to die soon, but he eats chicken cream pasta from Hannah even before his death. After that, he drank bottles with Edel again on Hannah's tofu and kimchi, and he recognized that Mirai was caught by drunk Arcel's foot-in-mouth disease. He uses spy-bots and his Quanx ability to rescue Mirai. At this time, he sees the G-string worn by Edel during the rescue and throw up. He asks Hannah to share them her recipe before she back to the center.
Later, he tells Gaal, who is returning from bloodshed to keep his promise, that he may be trapped in a child's body for the time being, but he'll never forget that Gaal to sell Guyrin over to El through the slave market. Then Gaal says that Pentagon didn't sell her, but she had asked them to sell herself to El through the slave market. Then they suspected for her ulterior motive, but they had to take her offer because they were running short on cash. And then Dike can find the related records in the Pentagon files he've handed over to Dike. he doesn't want to believe it, but he says Manoah's Table is Gaal must've been there at least once if he were on planet Urano and Hannah is quite the cook. So even Chef Manoah would take her in as an apprentice. And he've just paid for his meals to her with Gaal's life. Then so stop bothering innocent Quanx and get himself a new job and while Gaal at it, just catch himself a space disease and die.
He sees Pentagon's information received from Gaal. And he knows that, Guyrin isn't kidnapped but she has led herself deeds to El. She says she doesn't trust Dike and she needs El's protection. At this time, Yahwah notices that he hid Mirai Datsu. The reason is that micro-organisms call Gora, whose are lives in forest air on Carlburn and they reflect UV lights. So Yahwah calls him.
In (38), he's shocked by the fact that Guyrin betrayed himself. At this time, he ignores when Yahwah says he bring out the weapon maker in count of 3, or he die. Then, he's disconnected from the Neuro-Scanning socket and the body is terminates. Cell laughs after seeing the collapsed him. Because Eve didn't separate the expressive function of sorrow from joy. On the Quai's forehead, 眠 is written. This is a hint of whether or not he lives.
In 12. A.E. (4), he lying somewhere, opens his eyes.
Quanx Abilities
Edit
Appearances in Other Media
Edit
Yo! Villains
Edit
In Yo! Villains, the mobile game, Denma is playable character.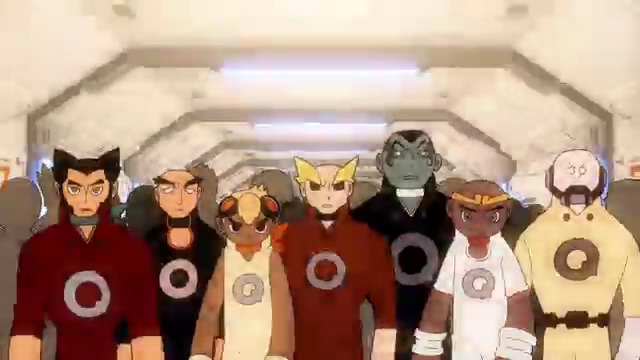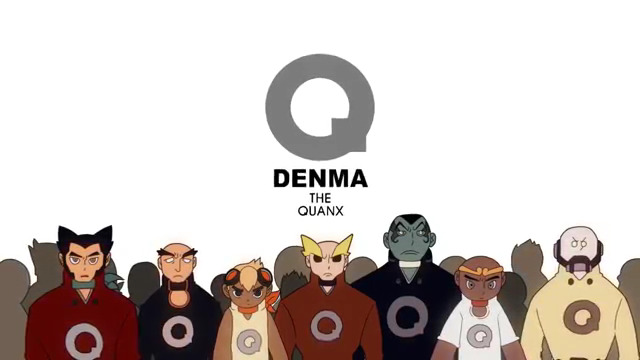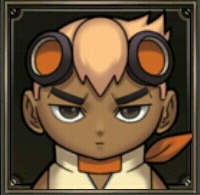 Default skin (Lv 1, 1 star ~ Lv 15, 3 stars)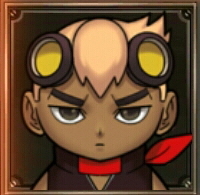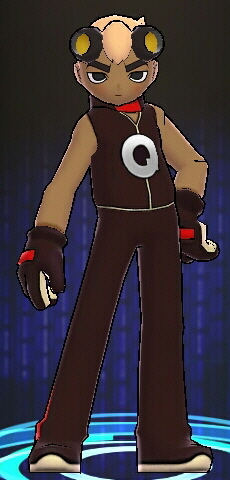 Growth skin (Lv 1, 4 stars ~ Lv 30, 4 stars)
Fire attribute
| | |
| --- | --- |
| Vitality | 15060 |
| Damage | 303 |
| Critical Damage | 130% |
Lv 30, 4 stars
Skills
Icon
Level
Name
Cooldown
Description
4
Resurrection
Passive
Character will be resurrected once in death.
4
Invincible Death
14'
Have nearby enemies attack character.
4
Equivalent Mass Subsitution
20'
Towards enemies with fewer vitality, character uses a subsitution technique to blow bombs, and push enemies within range to inflict damage.
Deliverer of Silverquick. He was kidnapped by Silverquick and trapped in a 12 years old child. He insists he's Dike.
In Denma with NAVER WEBTOON, Denma is playable character.
(To Jinu) "Are you that perfect? Are you a perfect father?"
(To Cell) "You know, fathers... can't show that they feel lonely or week. I mean, they shouldn't and shouldn't have to anyway."
"Oi, Cell!"
(To Yael) "Your touching twist is what dismays me."
"Okay! So, his specialty is bluffing."
(To Edel) "I won't ask again."
"Make your cry! Say good bye!"
The word Denma refers to the Japanese てんま[伝馬, Tenma]. てんま[伝馬, Tenma] is the abbreviation of てんません[伝馬船, Tenmasen]. In Japan, it means "large sculling boat".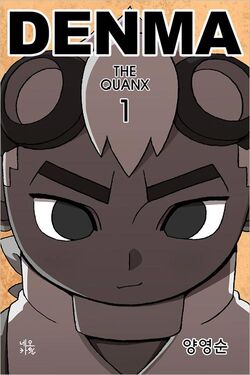 Ad blocker interference detected!
Wikia is a free-to-use site that makes money from advertising. We have a modified experience for viewers using ad blockers

Wikia is not accessible if you've made further modifications. Remove the custom ad blocker rule(s) and the page will load as expected.