El Rinyo Areukedillama Nubeure Sosyekiaseu (엘 리뇨 아르케딜라마 누브레 소셰키아스, Korean pronunciation: El rinyo areukedillama nubeure sosyekiaseu, Expected name: El Linyo Archedillama Nubre Soshekias) is the character of Denma.
Old English version is translated Earl El. However, his peerage didn't appear in the new English version.
He first mentioned in Blackout (4) - Ch.19.
He first appeared in Yael Road (3) - Ch.27.
His clown-like face is a mask. His face seems to make the people quite uncomfortable.
People call him El.
Biography
Edit
He and his man who's dressed in like Dike's uniform goes to the Duke. The Duke says he doesn't make a deal with a guy who covers his face. He takes off his mask and says he just didn't want to make the Duke to uncomfortable. The Duke says he likes that considerate attitude. He says he has Joshua's eyes for him. At this time, White Police Guards show up, and the Duke says Joshua's eye isn't something to be carried around like that. His man substitutes Joshua's an eye by matches the mass with some metals on the left wrist's wristlet.
He says he has the other Joshua's an eye and he'd like the exclusive right for the Zipnight trade for Northern Capital Country. The Duke asks his name. He answers he's the Count of planet Urano, El Rinyo Areukedillama Nubeure Sosyekiaseu, people call him El.
The Duke breaks Joshua's an eye and tries to put him and his man in underground prison. As he's being held, he says he recently heard that the pseudo religion is taking over one of the military supply companies so Joshua's eye should make the Duke the shareholder of the company and that will make him the actual owner of the eight universe. When he and his man are gone, the Duke says Mayhen that if people want to make a deal with him they should be as prepared as he's so he likes him, and he orders she'll go do some research on him because when Joshua's eye shattered he didn't look shaken up that means he doesn't really know the value of what he brought so he thinks there's a guy around him that's pretty good. In the meantime, Mayhen restores Joshua's eye to her Quanx ability. He says his man that he's sorry and Hazz told him that the Duke will make a deal with him as soon as he sees it so he just did what him told him to do. He thanks to his man and if they make it out of underground prison he promise that he'll take care of his entire family and he asks his son's name. His man answers that his son's name is Dike Heubing.
Mayhen wears garter belt and she thinks that there was no way that they'd know who he's based on the name so that was some highly classified information that only very few knew and she calls the Duke, who wears leather clothes and he plays BDSM Private worship. The Duke arrives the underground prison and asks why didn't he tell him he was the Little Emperor. He says he wouldn't dare say that in front of the Duke. The Duke offers to drink with him. He says he heard from people about the Duke offering drinks and it would be a great honor for him. The Duke makes up for his rudeness so he gives Federick to him, who's one of his White Police Guards that he fully trust and he's a combat style Hyper-Quanx that passed all the hardcore trainings so it'll make him feel like he own an army. The Duke says Federick will be loyal to him except for the times that he call in the White Police Guards, and he asks he can show the Little Emperor's branding. He brands the symbol to Federick and he says this like a tattoo but a little different and if the people have this symbol branded he can transfer his emotions and health conditions to them.
The Duke hugs him and says he'll tell him the results of the deal with the See before anyone else, and even if he get what he want he can't accept his favor and it's practically impossible because the relationships are more complicated than he thinks and most importantly, it's crazy to even think about monopolizing because he can't try to take it all by himself because they'll blow him up. And the Duke says he didn't really mean to monopolize it because that was just a part of negotiation. The Duke promises that no one's going to call him the Little Emperor from now on and it'll be more difficult to handle everything around him so he want him to bear with all of them because he can't officially help him, but he won't take back his attention from him, it means he'll called the Emperor of planet Urano. He and his people are disappear.
7 months ago
Edit
In Blackout (4) - Ch.19, just 6 months earlier, at the end of war with Big Four who're his soldiers, in Urano, Dike fought these, with his colleagues, including Jet.
Current time
Edit
In Yael Road (3) - Ch.27, Denma sees Guyrin in dream when the building collapses. But her face is divided and the mask of someone is revealed. He's El.
In Savoy Gaal (3), Denma thinks Pentagon kidnapped and sold off Guyrin to him after they failed to capture Dike.
But in (35), Gaal says that they didn't take Dike's girl, he mean, lady. Guyrin came to them and Gaal doesn't know why, but she asked them to sell herself to him through the slave market.
In (37), Denma sees Pentagon's information received from Gaal. And Denma knows that, Guyrin isn't kidnapped but she has led herself deeds to him. Guyrin says she doesn't trust Dike and she needs his protection.
In God's Lover (109), Denma eats chicken cream spaghetti, and he sees an image (mark) that he projected in his hand. Denma thinks it means that this damn clown didn't die and is now fully recovered and this jerk still thinks he owns him.
In 16. A.E. (1-3), Randolph (Eunguy), who's Pentagon's former member sees his mark on his palm and thinks he even got this, and what is he supposed to do.
He has the ability to brand the symbol to transfer his emotions and health conditions to the other. This name is the Little Emperor's branding.
The shape of the symbol is a circle of bold line and it seems that it's settled as a symbol of the El family.
The characters of branded symbols are Federick, Denma (Dike Heubing), Guyrin, and Randolph (Eunguy). Guyrin is branded the symbols on the shoulders, while the rest are branded them on their palms.
Some don't like the symbol. Denma sees an image (mark) that he projected in his hand. Denma thinks it means that this damn clown didn't die and is now fully recovered and this jerk still thinks he owns him. Randolph (Eunguy) sees his mark on his palm and thinks he even got this, and what is he supposed to do.
It's not yet known whether this is a Quanx ablilty.
There's an alphabet 'O' on O's face. This is similar to the Little Emperor's branding, so there's a theory that O is related to him. However, it isn't a meaningful symbol. There isn't contact between O and him.
Appearances in Other Media
Edit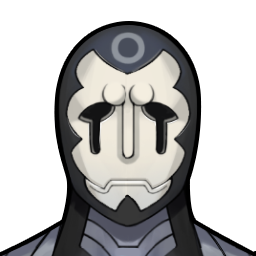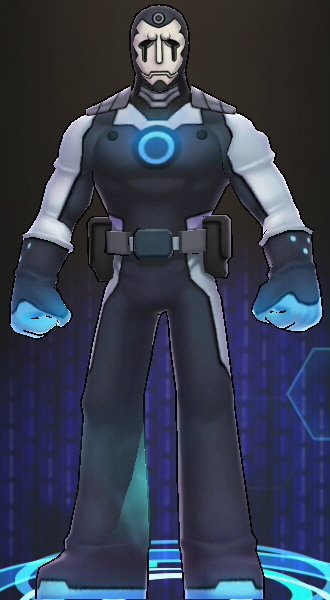 Default skin (Lv 1, 4 stars ~ Lv 30, 6 stars)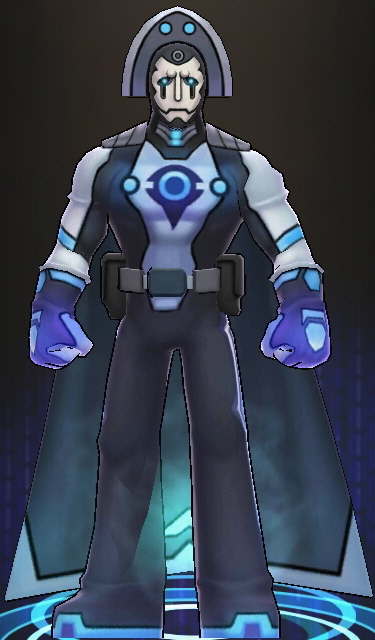 Growth skin (Lv 1, 7 stars ~ Lv 45, 7 stars)
Water attribute
| | |
| --- | --- |
| Vitality | 32194 |
| Damage | 1395 |
| Critical Damage | 130% |
Lv 45, 7 stars
Skills
Icon
Level
Name
Cooldown
Description
7
Three strokes
Passive
A powerful attack, after basic attack every 3 times.
4
El's image (or mark)
6'
The character is engraving to the image (mark) to inflicts damage to the most vitality enemy character. When a target is engraved to the image, it receives increases the damage.
4
El's advance
18'
The character encourages allies with intense shouting, increasing the damage, attack speed, and crowd control resistance of all ally characters, including themselves, for a short time. Additionally inflicts damage on enemies within range.
4
El's shield
Passive
The damage El receives decreases proportionally to the number of alive ally characters, and El's damage is increases proportionally to the number of ally characters. Ally characters are limited to the characters set on the team.
Hidden Characteristic
-
(Hidden Characteristic) Resurrection
Passive
Character will be resurrected once in death.
Little Emperor of Urano.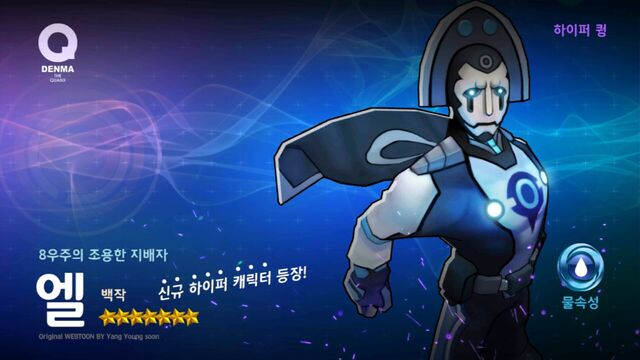 In Denma with NAVER WEBTOON, Earl El is playable character.
Tail-Coat El skin
Additional stat: vitality 20%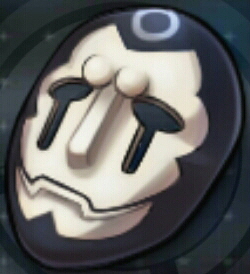 According to the Volume 8 introduction, it says the collision between the 8th universe best noble family, Gosan family and the second noble family, El family, makes the people's eyes off.
Fan arts
In second print of Volume 8, Earl El will put its face on the cover.