God (고드, Godeu) is the character of Denma.
Biography
Edit
He's Denma's client.
He's first appeared in human shape on God's Lover (13).
And second appeared in black cat shape on God's Lover (15). The cat shape has black skin, And his neck has a small bell.
He's similar to Yahwah. He and Yahwah share names of God, and their character is/was the devil. Also they have a common cute looks, and these aren't the actual body, but the avatar.
Cell tells to Denma that client is him and it's read Goad and according to the Bellarian pronounciation. And Cell tells before he died, his memory and consciousness were copied onto a device through the Artificial neurological cell procedure. Denma says how can Cell prove that the copied one is 100% same as the real one. He's doing is ordering some outdated fuel cell. Cell says Denma doesn't need to go through the border patrol, because he's in a satellite. New Catfish 13, an observer satellite, planet Bella, and Bellarian Space Defense, They discover a satellite. The Colonel commands for a moment to think about it, and he orders it fire away. A soldier farewell to his ghost and use Catfish 13 to blow up the satellite.
Cell says to him that they've increased their power output so his location doesn't get exposed while they approach.
In the shape of a black cat on the monitor inside the another satellite, he gets angry that Denma arrived right before the estimated delivery time. Denma installs fuel cell, and grumbles. He says he'll be a good time for him to share his story. He asked Silverquick to told the publisher that he'll record his story and have they take it to them. He tells he was the head of A.N.G.E.L., a federal network integration program for planet Bella. In the meantime, his story is begins.
Return to the present of timeline, Bellarian Space Defense, it's been 13 hours since they shot the satellite down, but the amount of water emission from the power plants haven't decreased at all. One soldier makes a report to the soldier that the control commands still get jammed, and according to the director of Angel team, they can only confirm Dr. God's existence 24 hours from now when the system maintenance is finished, and the director was certain that the doctor is still alive. The soldier is worried about what to report to Colonel Hawk. The chauffeur talk to himself that how is it so warm when it should be snowing, and he says to Hawk that the ETA is 7 am. Hawk sees a saved message from someone. The message is 'Don't find me until December 24th! You Bald Eagle!' Hawk raise doubts what is this idiot ghost trying to pull off now. He tells Denma that he can't help himself asking for a movie, whenever he see a pretty girl, so he wasn't expecting a yes, he just asked May out compulsively but she has accepted to go to the movie. So he says he was embarrassed.
Abilities
Edit
Appearances in Other Media
Edit
In Yo! Villains, God is playable character.
God's default skin (Lv 1, 4 stars ~ Lv 30, 6 stars)
God's growth skin (Lv 1, 7 stars ~ Lv 45, 7 stars)
Light attribute
| | |
| --- | --- |
| Vitality | 30352 |
| Damage | 481 |
| Critical Damage | 130% |
Lv 45, 7 stars
Skills
Icon
Level
Name
Cooldown
Description
7
Taking over
Passive
A random kind of minion is created at the character's death location.
4
Dummy explosion
6'
It inflicts damage to nearby enemies and floats them in the air.
4
God's advent
13'
The character is advents to the enemy with the lowest remaining vitality, causing damage to nearby enemies and stunning them. In addition, it reduces the amount of damage the character receive.
Hidden Characteristic
-
(Hidden Characteristic) Force shield
Passive
Energy is charged every cooldown and if there's enemy within range it automatically damages.
The god on the planet Bella. When he was alive, he was the head of the A.N.G.E.L. project.
In Denma with NAVER WEBTOON, God is playable character.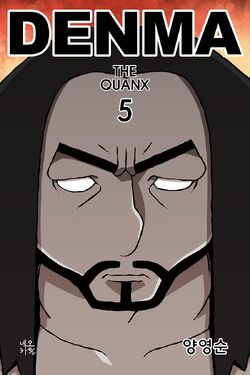 In Volume 5, God put its face on the cover.
Ad blocker interference detected!
Wikia is a free-to-use site that makes money from advertising. We have a modified experience for viewers using ad blockers

Wikia is not accessible if you've made further modifications. Remove the custom ad blocker rule(s) and the page will load as expected.