Internal Affairs (감찰국, Gamchalguk) is the organization of the Church of Madonna in Denma.
It's first mentioned in the Rami Record (8) (Korean, In Denma, it's (2)). And in Denma, it's first mentioned in the Sixteen (24).
It's first appeared in the Sixteen (25).
In (14), Quanx inspectors are based mainly on the inspection team. When Guardian priests are damages any of Patron's properties or cause some trouble with the Patron's side, they'll faces here.
In (19), the priests belong to inspection team are called the Black Chapter (검은 사제단, Geomeun sajedan).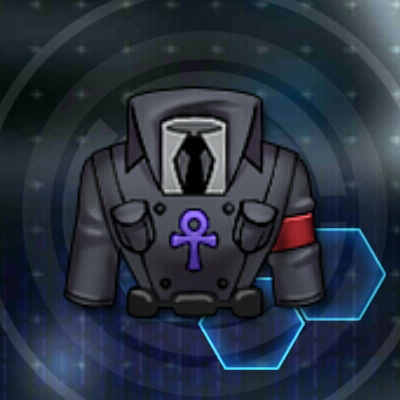 7 years ago, Black Chapter inspectors are wearing a black long coat. Unlike the game, the ankh is gray.
They're using Transcriptome.
7 years ago, Korah was a rookie agent. Edel's uncle, Ham, was an Ex-Black Chapter. His real name is Balak. There was a factions inside. Gatsu was the head of here and Max, the deputy head of here, he led a group that was against Gatsu.
These're higher than regular priests.
The prison was designed to lock up Hyper-Quanx, so the prisoner can't breaks out unless prisoner is assisted by the insider. So there is no way that the Bureau would let Quanx prisoner escape so easily. The punish prison break is execution upon capture. The outside the 50km radius of the prison to have prisoner declared as an escapee by law.
They run prison Abronah. This is where people serve people's time after the final sentence. There're also transcriptomes here.
7 years later, Black Chapter inspectors are wearing a white or ivory long coat instead of the black long coat. And Balak becomes the director here. And, on both sides of him, there're bull horn and horned nose.
Lang monastery on planet Tulou is like a training school for the Black Chapter.
In Pigear (29), the directors of Silverquick station-7 stop Yahwah because he didn't report the Gaal's booster guns. They says this is some serious matter that can break the hierarchy of the entire church body, so they transmitted the footage to here yesterday. And they confine him in something like a box. Then they say that, his avatar in custody until the Black Chapter inspectors get in.
Inspection Department is old English version's name.
Characters
Edit
Ad blocker interference detected!
Wikia is a free-to-use site that makes money from advertising. We have a modified experience for viewers using ad blockers

Wikia is not accessible if you've made further modifications. Remove the custom ad blocker rule(s) and the page will load as expected.